"A couple of hundred years ago, Benjamin Franklin shared with the world the secret of his success. Never leave that till tomorrow, which you can do today.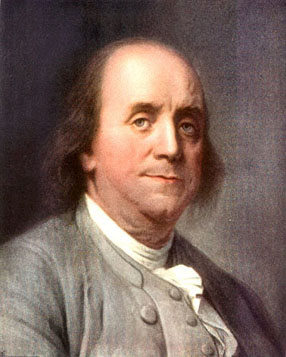 Who was he?The former USA president?Was that all?Guess again..
To his life's end, Ben Franklin remained a printer and took pride in it.

Ben Franklin first saw himself in print at age 16, writing his controversial, feminist "Silence Dogood" letters, published anonymously in his brother's newspaper, The New England Courant.

As a teenager Ben Franklin became an expert swimmer.

At the age of twenty-two, Ben Franklin was the owner of the Pennsylvania Gazette newspaper.

As a young man in his twenties, Ben Franklin was elected clerk of the Pennsylvania Assembly.

Ben Franklin taught himself to read French, Spanish, Latin, and Italian.

Ben Franklin was already over forty-five years old when he started his experiments in electricity.
"Diligence is the mother of good luck."
"Beware of little expenses. A small leak will sink a great ship."
"Well done is better than well said."
"Lost Time is Never Found Again"